Luxury Kitchen Showroom In Caterham
Bespoke Fitted Kitchens In Caterham
We are an independent, family-owned, Caterham Kitchen Showroom specialising in German and British quality kitchens. We have a fully bespoke product range encompassing all kitchen styles and catering for a range of budgets, so whether it's a traditional kitchen or else a cutting-edge modern industrial theme you want, we have the means to do it. We are also highly experienced, with the skill and know-how to do things other kitchen companies can't. This means we can achieve the exact kitchen look you want, especially tailored for you, your tastes and your home, and at prices that may just surprise you!
Modern Kitchen Design Experts
At Colour House Interiors we are experts in modern kitchen design, characterised by clean lines and minimalist surfaces. Think handleless doors, hidden storage, larders with hidden worksurfaces, sleek pocket doors, and every kind of pull-out unit possible! Popular finishes for modern kitchen furniture include statement concrete, glass, and wood veneers. We also supply a specialist lacquered kitchen door with scratch and finger-print resistance; this is ideal choice for dark kitchen colours which are currently on trend within modern kitchen design. All our modern kitchen furniture is manufactured from the well-known Ballerina group in Germany.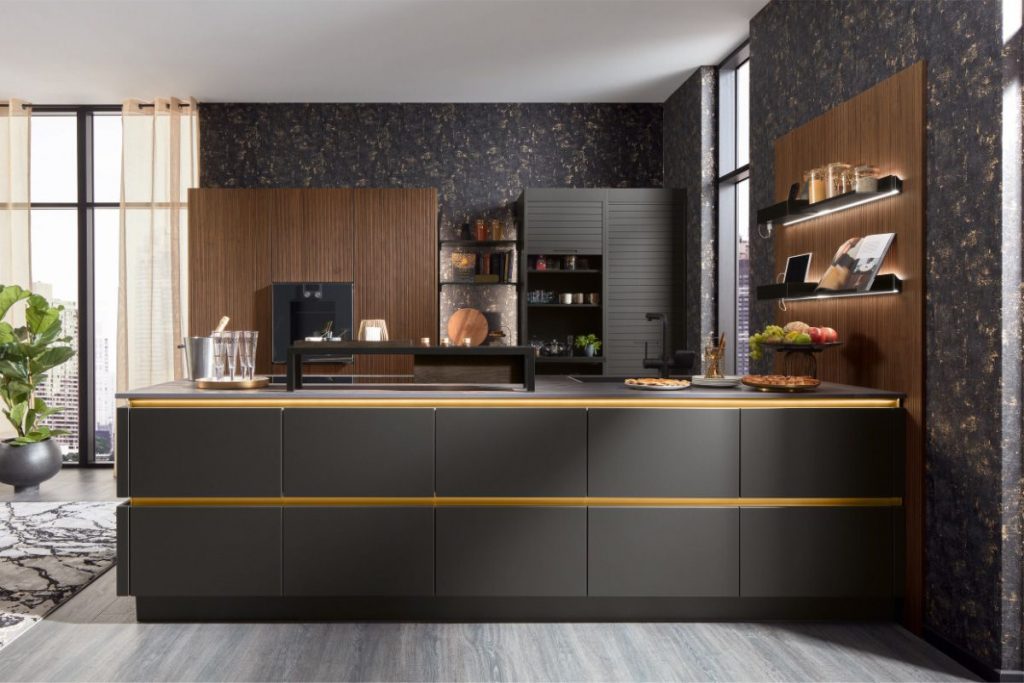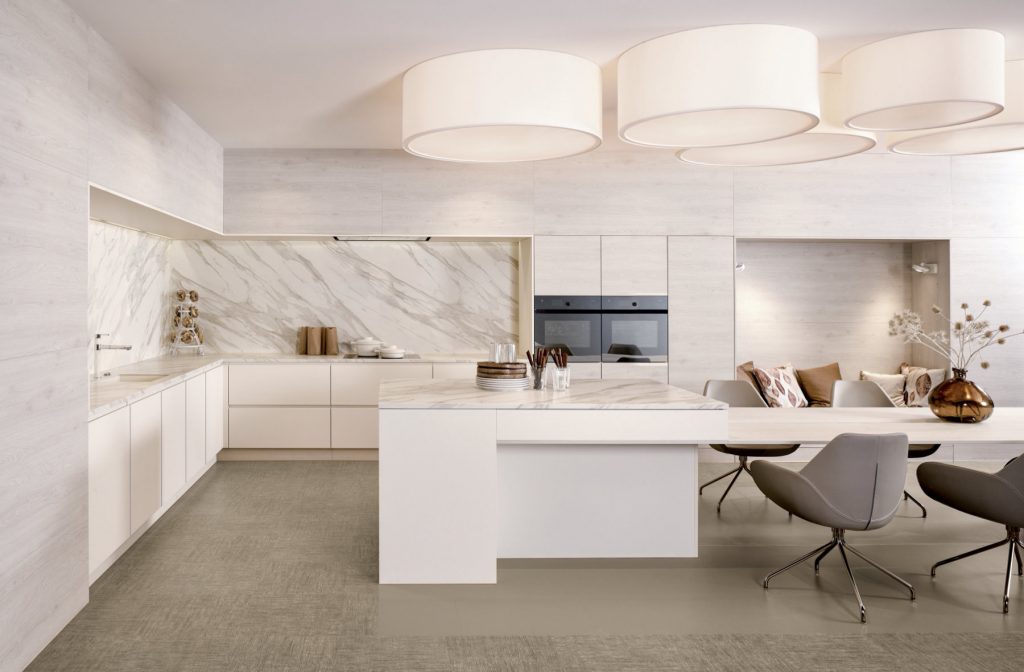 Luxury German Kitchen Showroom
If you ever wanted to know why German kitchens are so popular it's due to the wide range of kitchen options they offer and their specialization. They create cutting-edge products designed to meet every consumer need, and manufactured to an exceptional standard of quality. At Colour House Interiors we supply luxury German kitchen furniture from one of the industry's leading kitchen manufacturers, Ballerina.
Ballerina are exceptional within themselves, as they are the only mid-range kitchen company to supply solid backed kitchen carcasses. They also offer a large range of carcass colour options, and an even wider choice of colours and finishes when it comes to doors. Ballerina have also won many awards for quality, innovation and client satisfaction, including Winner of the 'German Design Award 2020' from the German Design Council.
Bespoke Traditional Kitchens
As well as modern kitchens we specialise in luxury, UK-made, traditional kitchens. We provide In-frame kitchens, lay on shaker kitchen doors and butt-hinge door options in any size and finish, including quality solid timbers and wood veneers in Walnut and Oak. But more than this, all of our traditional kitchen options are very bespoke so no matter the request, we can make it for you! There's nothing we can't do, and we are also very well priced for what we do. Furthermore, we offer a bespoke colour match service, whereby we can professionally finish your doors in any colour of your choosing, including colours from Farrow & Ball or The Little Green Paint Company's range.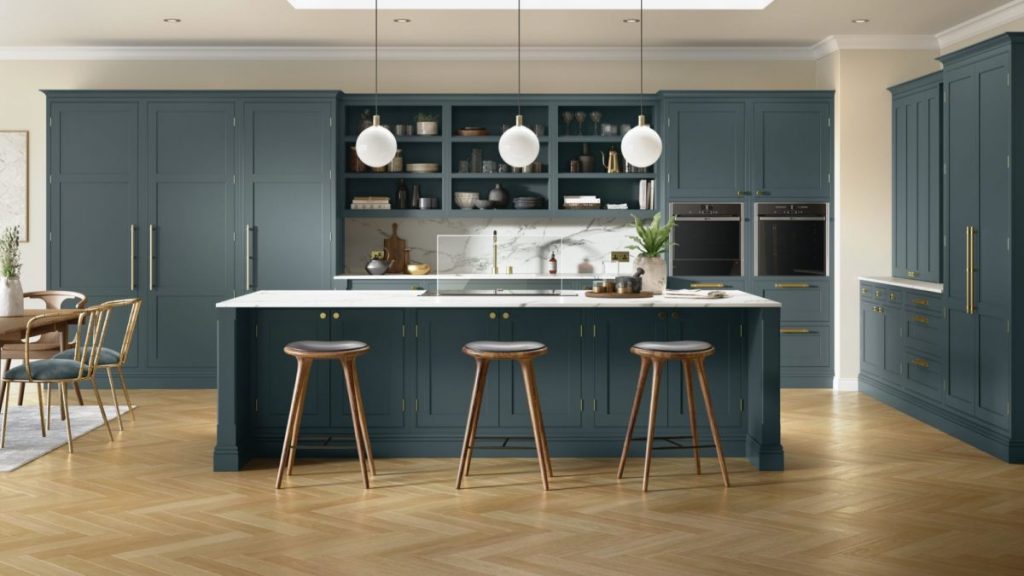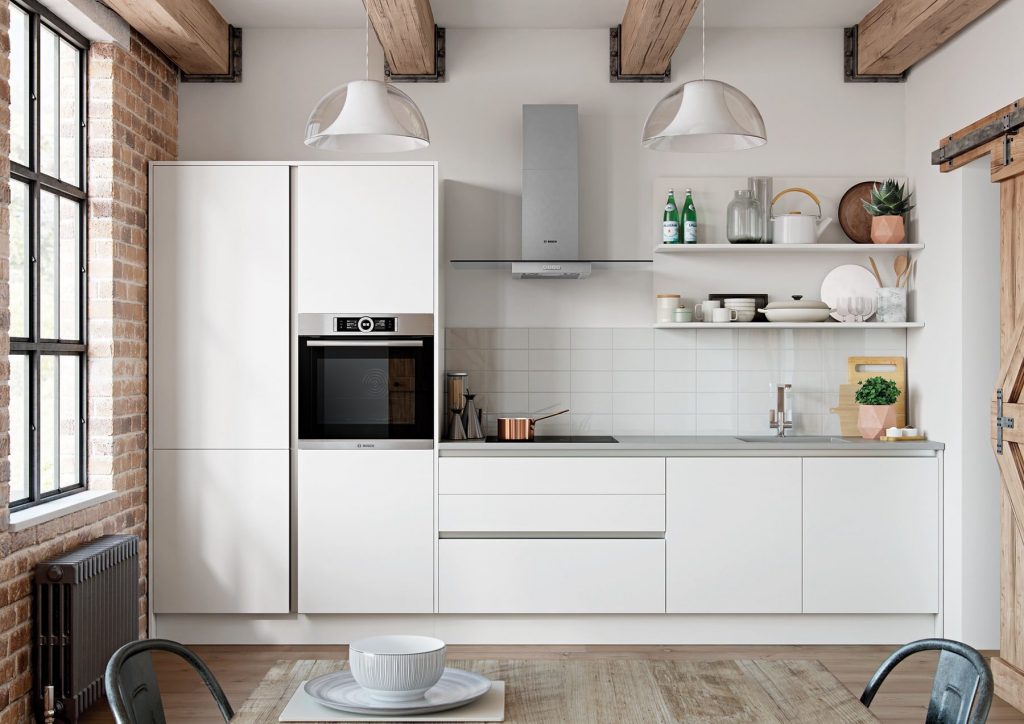 Competitive Kitchen Pricing
At Colour House Interiors we have 3 different ranges; entry-level, mid and fully bespoke. The flexibility this affords us in terms of product means we can suitably cater for a diverse range of project budgets.
Please try our Instant Online Price Calculator or else contact us to book your free design appointment and detailed quote.
Kitchen Worktops, Appliances and Taps
As well as kitchen furniture our showroom is home to many different styles of worktop including Dekton, granite and quartz. We are also the only kitchen showroom in the area to have the full range of Quooker sinks and taps on display, for which we have dedicated an entire showroom area. In addition there is a diverse range of working appliances for you to try including from popular brands Samsung, Fisher & Paykal, and Siemens.
We are an approved Siemens 5 Star iQ Design Studio which means we have completed advanced appliance training, and in turn we have access to exclusive promotions from Siemens. And if we don't have it on display that doesn't mean we don't supply it; we can obtain any appliances of your choosing whilst proving competitive on price, so please just ask at the time of your visit!
Visit Our Caterham Kitchen Showroom
If you are considering a new kitchen then a visit to our stunning Caterham kitchen showroom is an absolute must! Here you will discover truly bespoke traditional kitchen furniture, as well as modern and contemporary kitchen displays…and every other style in between! Many of our displays feature the latest in kitchen trends, including popular dark tones, timber, brass, various handleless doors, and painted finishes such as our chic new matt lacquer kitchen door in exquisite dark green.
Opening Hours
Monday: Friday: 9.30am – 5.30pm
Saturday: 10am – 5pm
Sunday: Closed
Colourhouse Interiors Service Areas
Showroom Amenities
We can visit you at home or else please book an appointment to our Caterham kitchen showroom where you are welcome to browse, or else we can guide you through each of our luxury displays and products, Our kitchen showroom is family friendly, accessible for wheelchairs and prams, and we have free car parking on site.
Discover Our Range Of Styles